Aero Only sells high quality industrial grade flock fibers and glue.
Aero stocks the common colors for the outdoor industry. Flocking colors can be special orders, but minimums apply.
Make your time and efforts last, use Aero Glue and Flock.
Velvet Feather Bulk Flock & Glue Pricing and Order
We sell both the flocking fiber and glue in bulk. High quality Nylon Fibers which are colorfast, durable and water resistant. Perfect for outdoor use. Fade resistant.
Use it for crafts, dolls, fishing poles, decoys and ???


Flocking Fiber- sold by weight (Volume is about 3x of liquid)
Use for crafts, decoys, fishing rods and décor. Nylon is abrasion resistant & does not bleed when wet. Pair with Aero Ure-Glue for long-lasting results. Flocking emulates real feathers and had similar UV properties. White paint under UV light turns black, which flock while hold its color. Easy process. Download the PDF color guide.

Note: 1 pound of black fibers can do approximately 4-6 dozen big foot heads.
Coverage: Our testing- 2 oz flocking covering 9 sq feet flat surface, 1 coat, allowing for no drift/loss; Therefore 16 oz cover apx 72 sq feet.
Coverage is always a variable, depending upon the glue absorption, the application & if loose fibers are recaptured to use again.
Many custom colors, found only at Aero Outdoors. Available in 1oz, 4oz, 8oz and 1lb bags. (16 oz =1 lb ) Be creative!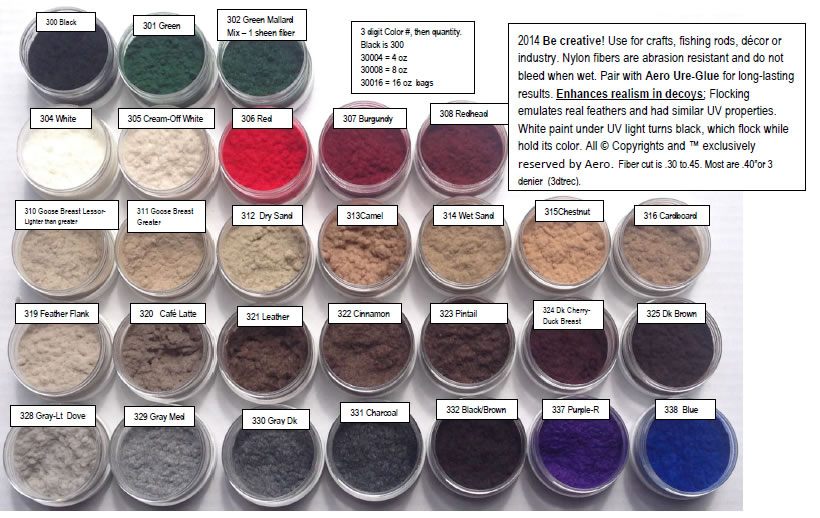 NOTE: page in REVISION progress.......... All of the colors are not listed on the buy buttons yet! Will be in a couple days.

MARK
QUANTITY
CLICK on the black arrow to the right of cost for CHOICE 4 oz, 8 oz and 16 oz drop down choices.
509-545-8000
BASIC COLORS
BEIGE-BROWN COLORS
GRAY-DARK COLORS
OTHER
CALL
For custom colors. Minimum quantities apply.
Glue- New Ure-Glue- Urethane base for long lasting finish, which adjusts to the flexing and temperature changes on plastics used outdoors.
Make your finish last, but using Ure-Glue. Waterproof, flexible & abrasion/wear resistant!
See comparison with Rustoleum Paint
Purchase the glue to match your flocking fiber color for a better finished product. Or use different under color to vary results.
We suggest using a neutral color under fibers. The colored glue masks wear spots, uneven paint color/coverage & sparse application flock..
Aero Ure-Glue is a urethane base; extremely durable & easy to use. NO strong fumes. In testing, no other glue on the market held up like Aero's.
Aero Ure-Glue works on all surfaces, which will accept an adhesive or paint.
The additives to the glue enhance the properties of adhesion. Specially formulated for plastic decoys, one of the toughest surfaces.
Test a spot & allow to dry before whole application. Some preparation/primer may be needed.
Urethane properties: high abrasion resistance, elasticity to adjust to the plastic decoys during temperature changes & UV resistant- holds color..
Very easy to use, no high fumes, not solvent based and dries quickly. Don't use paints which are meant for flat surfaces.
Estimate about 25% more glue than flock- Depending upon application technique. Sold by weight. Color darkens when dry. Do not Freeze.
The Buy Glue has been moved here.
SHIPPING
Same Day 1000
Place an order and ship the same day, if doable before freight is picked up.
Most orders will ship in 2-4 days. Subject to availability.
$5.00
Next Day-Express 2000
Drop off at the airport:
Ship express shipping on the day ordered: Next Day, 2nd Day and some third Day (depending upon the area). subject to availability
$10.00
Flat Rate Shipping Chart for Flocking products above for 48 states, standard ground. Extra for Hawaii and Alaska..
Greater than
Less than
Shipping* Price is..
$ .01
$ 15.00
$7.00
$ 15.01
$ 20.00
$ 10.00
$ 20.01
$ 30.00
$ 12.00
$ 30.01
$ 40.00
$ 13.00
$ 40.01
$ 50.00
$ 14.00
$ 50.01
$ 70.00

$ 16.50

$ 70.01
$ 100.00
$ 17.50
$100.01+
Price to be determined at shipping*
$ 168.00+
Std. Shipping is FREE in 48 states.
Products are shipped typically in 3 business days after receipt of order during season (Oct-Jan), or sooner. Glue is shipped only on Monday for during extreme cold weather.
Shipping once a week off season.
$10.00 fee for COD orders.
International orders will be charged actual shipping costs, plus $3.00 for extra packaging and paperwork. Expedited shipping is available, but extra fees apply. Same day shipping for $5.00 extra, if possible.
One Large Flat Rate Box holds apx 4 pounds of flock, and maybe another 4-8 ounces. This ships to NZ for $80 USPS,apx.
Bulk Pricing
Professional fibers & Aero's Specialty Glue Just fibers & glue.
More product info at the top of this page.

. Call our office (509) 545-8000 for pricing and to order.
Disclaimer: All recommendations for glue and fibers are believed to be reliable. However, since the actual use of this product is beyond our control, no guarantee or warranty of any kind expressed or implied is made with respect to information presented and Aero Outdoors assumes no responsibility for use or misuse of the product and processes as described. Use with care and discretion; Aero Outdoors is not responsible for any personal or property damages, or any kind.